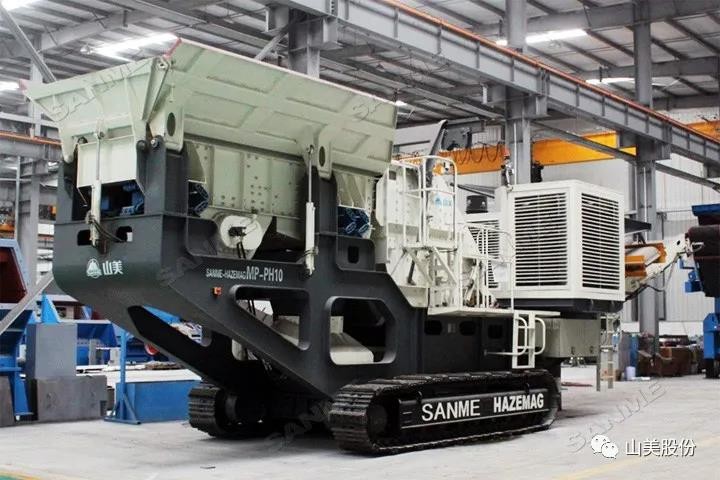 In 2010, the crawler mobile jaw crushing station independently developed and manufactured by Shanghai SANME Co., Ltd. was unveiled at the Shanghai BMW Construction Machinery Exhibition (bauma China 2010), which attracted the attention of many exhibitors.
In 2012, Shanghai SANME Co., Ltd. introduced the crawler mobile counterattack crushing station made by German technology, which also attracted the attention of many industry insiders and exhibitors at bauma China 2012.
The crawler mobile crushing plant of Shanghai SANME Co., Ltd. integrates feeding, crushing, conveying and other process equipment. According to different crushing process requirements, it can be operated independently, or it can be combined with the screening station to form a "crush and then screen" or "first" The "post-sieve crushing" system can also be combined into a two-stage crushing and screening system of "coarse crushing + fine crushing" and a three-stage crushing and screening system of "coarse crushing + medium crushing + fine crushing" according to actual needs to meet customer production needs.Compared with fixed production lines, crawler mobile crushing and screening systems have the following advantages:
1. Save infrastructure costs: installation is convenient and quick, without piling, which can save installation time and infrastructure costs;
2. Environmental protection in production, saving transportation costs: Its crushing, transportation, and screening integrated structure eliminates the need for material transfer during production, saving transportation costs, reducing dust and making it more environmentally friendly;
3. High operating efficiency and labor cost saving: Intelligent control system, a single person can control a production line, which saves labor cost and greatly improves production efficiency.
MP-J Series Mobile Jaw Crushing Plant
MP-C Series Mobile Cone Crushing Plant
MP-S Series Mobile Screening Plant
Solomon's 200t/h river pebble crushing production line
200t/h Construction Solid Waste Resource Recovery Project in Shijingshan, Beijing
In the future, Shanghai Shanmei will continue to intensively cultivate mobile crushing and screening equipment to provide customers with more professional, efficient, green and energy-saving complete solutions, and continue to innovate on this basis to become a resource for aggregate production and solid waste treatment High-quality provider of comprehensive services in the field of chemical engineering.